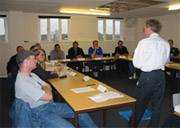 We offer a range of transport managers courses from the full training course and exams to refresher/compliance courses. Our courses are now available online or in the classroom, it could not be easier to get qualified or to renew/ stay up to date before it is too late.
We are offering individual modules that can be booked separately or collectively. These can be used to refresh specific topics to make staff aware of certain areas of the business and develop skill sets, or you can book each module separately learning all modules ready to book your exams for the full qualification.
Transport Manager / Office Topics & Individual Modules:
Online & Classroom Courses Available!
Classroom: £100 + vat
Online: £50 + vat
(price per module)
Module 1 – Understanding Business part 1 (Business & Company Law, Industrial Relations)
Module 2 – Understanding Business part 2 (Health & Safety, Marketing, Organisation Charts, KPIs)
Module 3 – Financial Management
Module 4 – Vehicle selection & Weights & Dimensions
Module 5 – Vehicle Taxation & Insurances
Module 6 – Drivers & Operators Licensing
Module 7 – Planned Preventive Maintenance
Module 8 – Vehicle Costings & Safe Loading & Transit of Goods
Modules 9 – Drivers Hours & Records
Module 10 – Contract od Carriage, Traffic Regulations & Road Accident Procedure
Module 11 – International Operations
Please contact us for dates: enquiries@jcoates.co.uk / 08002797944
Road Haulage Transport Managers CPC Training & Exam Course:
Online & Classroom Courses Available!
Classroom: £1125 + vat (inc exams)
Online: £775 + vat (inc exams)
CPC is an ESSENTIAL requirement for anyone applying for a "Goods Vehicle Operators' Licence" or for staff with the responsibility for the control of Goods Vehicles.
Our Transport Managers CPC runs as a 10-day course (+ exam day) and takes place quarterly in Leicester or online from the comfort/convenience from your home or office.
The Transport Managers Course consists of 2 exams, the following modules must be successfully passed:
R 1 – 60 multi-choice questions in 120 minutes
R 2 – Case Study Paper (written answers) in 135 minutes
Only when both modules have been successfully passed can a Full CPC Certificate be issued.

CPC Exams and courses are held 4 times a year at dates booked by the exam board, Skills & Education Group Awards (SEGA).

Please contact us for dates: enquiries@jcoates.co.uk / 0800 2797944
Syllabus Outline
Within both modules the following areas are covered:
Business & Company Law
Social Legislation & Industrial Relations
Health & Safety
Financial Management
Commercial Conduct
Marketing
Organisation Charts, KPIs
Business Taxation
Vehicle Selection
Operator Licensing
Vehicle Excess Duty
Insurance
Driver Licensing
Transport Ancillaries & Contracts of Carriage
Drivers Hours & Records
Vehicle Costing
Safe Loading & Transit of Goods
Planned preventative maintenance
Vehicle Weights & Dimensions
Speed Limits & Traffic Regulations
RTA Procedures
Electronic Data
Plating & Testing
Fleet Inspection
Roadside Checks
Permits & Methods of operating
Customs transit system
Incoterms & frontier crossings
International transport documentation
R2 Preparation Day
Held the day before the exams, this preparation day is designed for both those attending the preceding course or those needing to re-sit.
Classroom: £82.50 + vat
Online: £82.50 + vat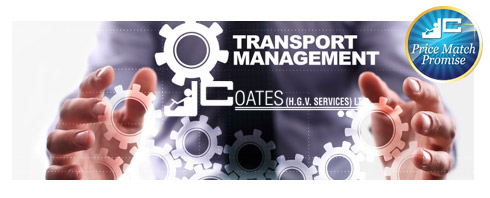 Professional Development for Transport Managers:
TMs should possess high-quality, professional knowledge to do their jobs effectively. Being a transport manager carries a lot of responsibility, the role is not a formality, it is a serious requirement. A TM cannot just put their name down on a licence – they must actively perform their statutory duty and it is important for every transport manager to keep their professional knowledge up to date – i.e. through CPD.
Transport Managers Refresher / Compliance Course:
(2-day)
Online & Classroom Courses Available!
Classroom: £400 + vat
Online: £150 + vat
Operators Awareness Courses:
(1-day)
Online & Classroom Courses Available!
Classroom: £200 + vat
Online: £99 + vat
CPD describes learning activities which professionals proactively undertake to develop and enhance their abilities. Some professions specify those activities, but TMs are trusted to identify any areas where they need refresher training.
It is strongly advised to refresh your qualification or to give staff members the awareness they need in their role.
Our 2 Day Transport Manager CPC Refresher / Compliance Course is the perfect re-cap for existing Transport Managers to stay up to date with all the legislation, rules and regulations involved.
We offer the 1 Day Operators Awareness Course for staff members who do not require the qualification but need awareness of the topics / modules included.
On some occasions the traffic commissioner would have you attend a refresher course if any wrong doings were identified or if your qualification were not refreshed for a substantial period.
For Transport Managers, traffic commissioners would expect CPD to have been undertaken every five years as a minimum.
Courses be run by a trade association, a professional body or an approved exam centre offering the relevant transport manager CPC qualification like ourselves.
Please contact us for dates: enquiries@jcoates.co.uk / 08002797944