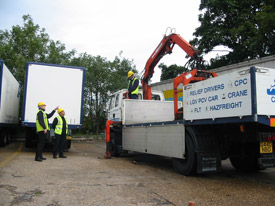 (HIAB / ATLAS etc. Cranes)
Our Lorry Loader training is designed to ensure that your staff operate this expensive equipment efficiently and safely. The requirement for training is clearly part of Health & Safety legislation and besides that makes common sense – how much would an accident cost you ?
WE ARE NOW ABLE TO PROVIDE TRAINING ON A REMOTE CONTROLLED CRANE, PLEASE ASK FOR DETAILS
UPGRADE THIS COURSE TO COUNT TOWARDS 1 DAY OF DRIVER CPC TRAINING
Use our Course Selector for prices.
Course Content
THEORETICAL TRAINING 
Induction
Health & Safety
Personal Protective Equipment
Types of Crane
Daily Checks
Selection of Suitable Sites
Stowing Crane for safe travelling
PRACTICAL TRAINING
Introduction to equipment
Setting up the Crane
Loading / Unloading various types of load
Practical Testing
Our courses are designed to be mainly practical but some classroom based input is vital to the understanding of the safe operation of this equipment.
We work with a group of up to 3 trainees and most practically minded trainees are able to reach the required standard within one day.
This training is available at our Leicester training centre using our 3.5 tonne capacity Atlas Crane equipped vehicle. We can include training on both ordinary hook and brick grab.
Training using your own equipment is also available as is on site training.