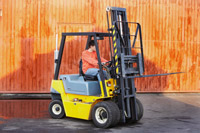 0% Finance available call for details
(Subject to status)
The Health & Safety Commission's Code Of Practice, RIDER OPERATED LIFT TRUCKS – OPERATOR TRAINING, issued under the authority of the Health & Safety at Work Act, states that all employers must ensure that Forklift Operators are adequately trained.
Use our Course Selector for prices.
Basic Operator Training Syllabus
THEORETICAL TRAINING
Induction
The Operators Safety Code
Daily Inspection
Hydraulic systems
Operating procedures
Fork truck stability
Theory Test.
PRACTICAL TRAINING
Introduction to the equipment
Daily inspection, take-over & maintenance
Starting, stopping, steering
Simple corners & manoeuvring
Operation of Hydraulics
Weight Assessment
Handling laden & unladen pallets
Manoeuvring in confined spaces
Driving on & off ramps
Vehicle loading & unloading
Handling awkward loads
Practical tests
Courses at our Training Centre
At our fully equipped Training Centre we can provide courses on either Counterbalance or Reach trucks, courses are available all year round including Saturdays and are available to business or private customers.
Courses at our centre are a flexible alternative to On – Site training. By sending staff one at a time workplace disruption can be kept to a minimum.
Training on Customers Premises
Many employers choose on-site training , using this approach staff are trained on the equipment they will actually be using and with the loads they will handle. Up to THREE trainees of similar ability may be trained at the same time
If on – site training is preferred, our instructor will require the following facilities to be in place:
A Forklift Truck in safe and sound working order, available for the complete duration of the course
A supply of stackable loads and empty pallets, set aside from the main working area and preferably under cover
Access to a room in which the theory sessions can be peacefully conducted
Uninterrupted attendance by all trainees throughout the entire course.