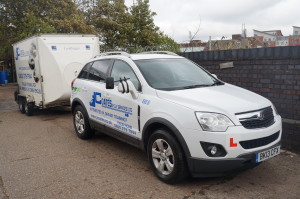 Rules affecting driving licenses changed on January 1st 1997. The rules mainly affect new Drivers passing a car-driving test after that date, but are anything but easy to understand. The questions below should help you answer any queries you may have. To be really accurate you should check with the relevant Government bodies listed below for absolute clarification.
0% Finance available call for details
(Subject to status)
Use our Course Selector for prices.
Drivers who passed a car driving test after 1st January '97
Pass Protection
We always want you to pass first time and by assessing you before we recommend a course length we consistently achieve pass rates 10% above the national pass rate.
Some of our customers however like the idea of having extra tests available if something went wrong on the day of the test.
£600.00 will get you 2 extra test attempts at a heavily discounted rate. If you pass your test that's part of your original course (so don't use any of the 2 pass protection tests) we will give you a refund of £300!
• Terms and conditions apply
Do I need a B+E Licence?
The driving license will show entitlement to drive vehicles in Category B – this is a vehicle with up to 8 passenger seats (Car to People Carrier) or a goods vehicle up to 3.5 tonnes Gross Vehicle Weight (Transit van size).
Can this driver tow a trailer?
Yes, but the combined mass of the trailer and the towing vehicle must not exceed 3500kgs or if the towing vehicle has a Maximum Authorized Mass of 3500kgs the trailer must not be more than 750kgs – this is probably a small camping type trailer.
But our caravan/trailer weighs more than 750kg can we still tow it?
Yes, but this is where you need to find the maximum towing capability of your vehicle and it's Unladen Weight (ULW) – the rules say that a trailer of more than 750kgs can be towed providing the trailers' maximum weight does not exceed the ULW of the towing vehicle and that the total combined vehicle and trailer doesn't exceed 3.5 tonnes. E.g. Our Peugeot 405 estate has an unladen weight of 1210kgs and could legally tow a trailer up to 1210kgs gross weight (with the Gross Train Weight still being less than 3.5 tonne). The manual for the vehicle actually specifies maximum trailer weights and is probably the best reference for this type of combination.
If your combination goes over 3.5 tonnes the driver will need Category B+E as a minimum.
The DVLA publish a leaflet "Your Driving License Explained" – it says B+E is for "Vehicles not covered by category B" which is all it says and is open to some misinterpretation.
With B+E on your license, your vehicle and trailer can be over 3.5 tonnes. To work out how heavy you will need to find the manual or the Vehicle Identification Plate.

The plate or manual will state maximum weights for the
vehicle, individual axle weight and something called Gross Train Weight (GTW). (GTW is the total weight of the vehicle trailer and load – if they weigh your vehicle and it exceeds this you are overloaded and have committed an offence.)
Extract from VIN Plate
Ford
Vehicle
Identification
Number
 
3500 KG
GVW
 
5750Kg
GTW
Front Axle
1650Kg
 
Rear Axle
2200Kg
 
e.g. our transit van has a plate with the following information:
This means we could tow a trailer weighing 2250kgs behind the van – but the driver must have category B+E on their Licence.
If the driver has only category B on their Licence they will need to take a test in a B+E combination if they need to drive this type of vehicle.
How long will it take to train a driver to B+E?
All drivers are different – some will learn quickly, others may take longer, we would recommend an assessment prior to training to determine the ideal course length- most drivers with car driving experience should be up to test standard within 5 days.
Do I have to take a theory test for
category B+E?
Fortunately no.
A Driver who passed a car driving test before 1st January 1997 – should have B+E on their license and could drive any of the above combinations and won't need another test!
CAUTION – You could need considerably more than a B+E driving test – if the trailer exceeds 1020kg ulw or the towing vehicle is over 3.5 tonnes and they are being used in connection with a business, you are likely to require a Goods Vehicle Operators Licence, the towing vehicle may require a Tachograph and the driver will have to observe the Drivers Hours Regulations. More details are available from your Local Traffic Area Network advertised under Driving in all BT Phone Books or www.vosa.gov.uk