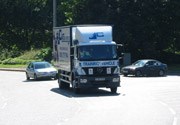 0% Finance available call for details
(Subject to status)
Since January 1st 1997 the law covering LGV driver training has changed, this guide should help you understand the various steps a trainee must go through to gain a vocational licence.
Although the law has changed you can rely on our 40 years of experience in providing vocational driver training to train you or your staff to the highest possible standards.
OUR AIM - is to train you to pass the tests as quickly and efficiently as possible while you learn commercial driver skills for work afterwards - Good Training Pays !
Use our Course Selector for prices.
The proof is in the pass rate! Train with us and statistically you have a higher chance of passing than with the average trainer.

| | | | |
| --- | --- | --- | --- |
| Test Centre | J Coates Depot | DSA Pass Rate | J Coates Pass Rate |
| Enfield | St Albans | 40.5% | 58% |
| Garrets Green | Coventry & Birmingham | 41.4% | 55.3% |
| Leicester | Leicester | 49.8% | 60.1% |
| Leighton Buzzard | St Albans | 49.8% | 63.6% |
| Watnall | Nottingham | 45.9% | 59.5% |
| Weedon | Northampton | 50.4% | 55.3% |
| Yeading | Slough | 51.5% | 59.6% |
DSA pass rates are based on 2009/10 figures which are available online at the DSA website Please find a step-by-step guide to how gain your LGV Licence  
Pass Protection
We always want you to pass first time and by assessing you before we recommend a course length we consistently achieve pass rates 10% above the national pass rate.
Some of our customers however like the idea of having extra tests available if something went wrong on the day of the test.
£600.00 will get you 2 extra test attempts at a heavily discounted rate. If you pass your test that's part of your original course (so don't use any of the 2 pass protection tests) we will give you a refund of £300!
• Terms and conditions apply

The medical examination is carried out by a doctor. TO COVER STAGES 1-4 PLEASE ORDER YOUR STARTER PACK BY CLICKING HERE 
All drivers are different, a pre training Road Driving assessment gears the course length to individual needs, saving time and money.
Training to pass your theory and hazard perception test can be done either at home by studying the theory training book and CD ROM or attending our 1 day Theory Test Preparation Course. This will help you develop the specialist knowledge required by a professional driver and to pass the theory test.
Training on our modern fleet of Mercedes vehicles, You will be trained to the highest standards within the driver training industry.
The test is arranged through our Block Booking system with the Driving Standards Agency, who will also test you.
You must pass both the theory and driving tests before you may legally drive a Cat C vehicle on the road.At this stage you can apply for provisional entitlement for Category C+E (Artic's / Draw Bars).
7 + 8- Following your assessment we will recommend a course of training for you to reach test standard for Cat C+E. Most of this training is carried out on 32 Tonne Box Body Artic's or 4 axle box bodied Drawbar Combinations so that a trainee gains experience on working size vehicles as used in industry.